TACA POSTINGS ALBUM: GERMANY
BIELEFELD, NORTH-RHINE WESTPHALIA
The multiview postcard below, which dates from the 1950s or 1960s, shows various views of Bielefeld, a town in the German
Land
of North-Rhine Westphalia, and home to many British army families since the end of World War II (it was once headquarters of 1 (BR) Corps). The three views above the German words '
Grüsse aus Bielefeld
' ('Greetings from Bielefeld') are labelled, from left to right: '
Cruwell-Haus
' ('Cruwell House), '
Leineweber-Denkmal
' ('Linen Weaver Memorial) and '
Sparrenburg
' ('Sparrenburg Castle'). The surrounding images, moving clockwise from the top right-hand corner, are captioned '
Stadttheater
' ('Town Theatre'), '
Am Jahnplatz
' ('On Jahn Place), '
Am Leineweberbrunnen
' ('At the Linen Weaver Fountain'), '
An der Sparrenburg
' ('At Sparrenburg Castle'), '
Am Alten Markt
' ('On the Old Market'), '
Botanischer Garten
' ('Botanical Garden'), '
Jahnplatz
' ('Jahn Place'), '
Hauptbahnhof
' ('Main Station'), '
An der Altstadter Kirche
' ('At the Old Town Church'), and '
Altstadter Kirchplatz
' ('Old Town Church Place). Click
here
to visit Bielefeld's official website.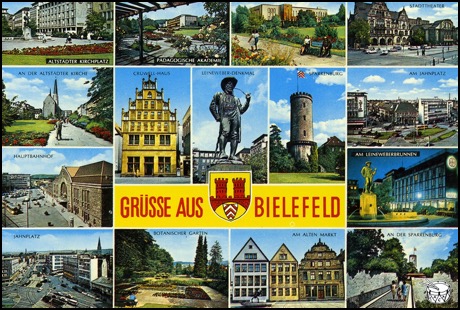 KREFELD, NORTH-RHINE WESTPHALIA
The multiview postcard below, which dates from the 1970s, presents various views of the western German city of Krefeld, in North-Rhine Westphalia, where a number of British Army regiments were based, as well as the Royal Corps of Signals, between the end of World War II and 2002. The top row, from left to right, shows the Rheinstraße, Dionysiuskirche and the Ostwall; the middle row shows the Westwall and museum, the Hauptbahnhof (main station) and Burg Linn; while the bottom row shows the Rheinbrücke (Rhine bridge), an evening scene on the Rhine and the Stadtwaldhaus park. The BAOR Locations website has further information about
Krefeld
(BFPO 35), notably about
Bradbury Barracks
, which housed many amenities used by army children and was home to 16 Signal Regiment at the time when it was granted the Freedom of the City of Krefeld in 1972.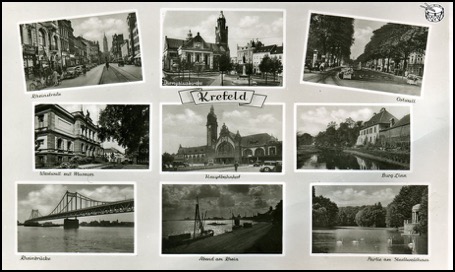 THE RHEINDAHLEN MILITARY COMPLEX

The headquarters, or JHQ (joint headquarters) of British Forces Germany (BFG) and of NATO's Allied Command Europe Rapid Reaction Corps (ARRC) and, before that, also of the Cold War-era BAOR (the British Army on the Rhine) and NORTHAG (Northern Army Group), has now moved from Rheindahlen, in Mönchengladbach, in the (West) German
Land
of North-Rhine Westphalia, to Imjin Barracks, in Innsworth, Gloucestershire. Rheindahlen is now home to the Headquarters United Kingdom Support Command. Many army children lived and went to school in Rheindahlen, and many still do (for more information on Rheindahlen today, see
http://forcesrheindahlen.2day.ws
).
The colour postcard below was posted in 1988 and shows the 'Big House' of the JHQ, where many army children's parents worked; the building dates from 1953. The four badges superimposed on the card represent, from left to right, the Northern Army Group (NORTHAG); HQ British Army on the Rhine (BAOR); the Second Allied Tactical Air Force; and the Second Tactical Air Force, RAF.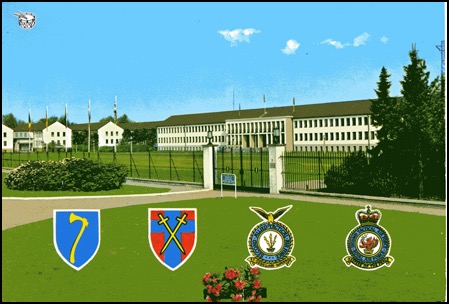 The postcard below shows aspects of Rheindahlen in its days as the headquarters of BAOR, moving clockwise from top left: the Globe Cinema; JHQ buildings; the outdoor swimming pool; and St Boniface, the Church of England church.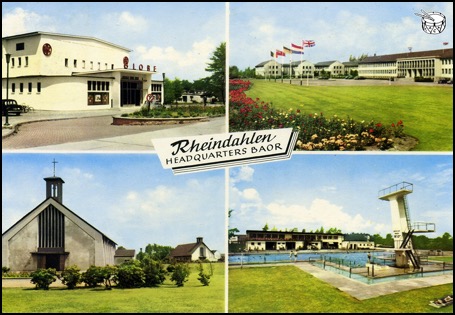 The colour postcard below dates from the 1970s and shows the YMCA (Young Men's Christian Association) club in Rheindahlen. Some youngsters can be seen at the entrance and, indeed, the club's leisure facilities were used by many army children while it was still operational.