ARMY CHILDREN'S GRAVES
Not only was the child mortality rate much higher in earlier centuries than it is today, but the nature of their parents' profession has placed some unfortunate children of serving soldiers in the wrong place at the wrong time, so that while some died on the march (see, for instance, '
DEATH ON THE MARCH: FALLING BY THE WAYSIDE ON THE RETREAT TO CORUNNA, 1808–9
'), others were killed by enemy action. And because army families have historically been constantly on the move, the graves of army children who died in the places where their parents were posted (sometimes of diseases, such as cholera and diphtheria, common to those locations) may be found in some corner of a foreign field or else in the UK, but still a long way from 'home'.
Having received a number of requests for help in locating the burial sites of nineteenth- and twentieth-century army children, TACA has now established the Army Children Graves Register. As with so much relating to British army children's history, there is little information readily available on the whereabouts of many of their graves, which means that the list of names on the list is far shorter than it should be. Click
here
to see the current list, and if you'd like further information about any of the names on the Army Children Graves Register, please contact TACA. Similarly, please get in touch if you would like to add any names to the list; photographs of army children's graves are also most welcome.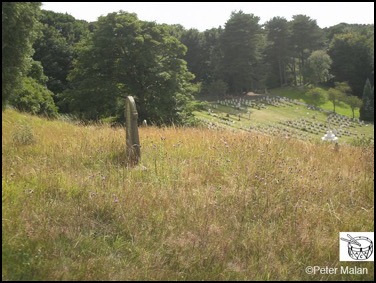 Left:
Shorncliffe Military Cemetery, Kent.




ADVICE ON LOCATING ARMY CHILDREN'S GRAVES FROM THE COMMONWEALTH WAR GRAVES COMMISSION AND THE MINISTRY OF DEFENCE
As well as commemorating the fallen from the armed forces of the Commonwealth who died during World War I and its immediate aftermath (specifically from 4 August 1914 to 31 August 1921) and World War II (3 September 1939 to 31 December 1947), the Commonwealth War Graves Commission (CWGC) holds a roll of honour for the civilian casualties of World War II. The roll of honour gives the names of casualties and their addresses, but no burial details; it can be searched on the CWGC's website (
http://www.cwgc. org
) using the 'Force' type 'Civilian'.
In some instances, the Ministry of Defence (MoD) employs the CWGC to maintain the graves of service casualties who died during periods unrelated to the two world wars ('non-world-war graves'). These include a number of service dependants, including wives and children. Information about these individuals and their graves is usually held by the CWGC, but is not accessible via the CWGC's website. Details may be confirmed in response to a written request or telephone enquiry (click
here
for the CWGC's contact details).
The MoD's Joint Casualty & Compassionate Centre (JCCC) may be able to answer enquiries about the graves of military personnel and some service dependants who died after 1 January 1948 and were buried or interred in cemeteries overseas. Written enquiries should be addressed to: Post Death Administration, JCCC (Joint Casualty & Compassionate Centre), Imjin Barracks, Innsworth, Gloucester GL3 1HW; alternatively, e-mail dbs-jcccgroupmailbox@mod.uk.
Note that in the case of service dependants who died while the serviceman was stationed in the UK, no records are held by the MoD because the serviceman would have been responsible for the burial arrangements. In addition, the MoD is unlikely to be able to help with enquiries concerning those who died before World War I and during the interwar period because funeral and burial arrangements then fell to individual units, which means that it holds no centralised records. In such cases, the MoD suggests searching the GRO death registers (see the '
HISTORY MATTERS
' page for advice) and the military diaries held in the National Archives (
http://www.nationalarchives.gov.uk
).
PICTURE: THE GRAVE OF ARMY-CHILD MARTHA TUCKWELL (1833–36), GOLDENBRIDGE CEMETERY, DUBLIN, IRELAND
Catherine Neville, of the Richmond Barracks Exhibition Centre in Dublin, Ireland, has kindly contributed a photograph of army-child Martha Tuckwell's grave to TACA. Catherine writes:
'
Richmond Barracks was a former British Army barracks, and there are some British army children's graves in neighbouring Goldenbridge Cemetery. Goldenbridge Cemetery was open from 1829 to 1868, when it was closed down by the War Office. It is part of the Glasnevin Trust, and we now provide tours of the cemetery as part of the Richmond Barracks guided-tour experience. We are still in the early stages of research into the Goldenbridge graves, and unfortunately some of the graves are in bad condition.

This photograph is of the grave of Martha Tuckwell, daughter of Samuel Tuckwell, who was the bandmaster with the 12th Regiment of Foot, which was based in Richmond Barracks in 1836.'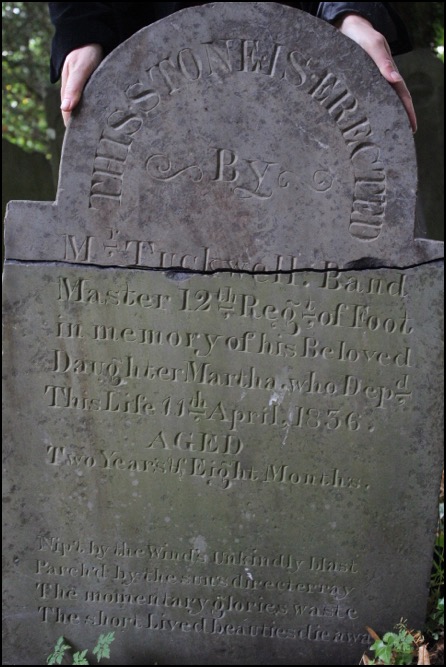 Above:
Martha Tuckwell's gravestone. The inscription reads: 'This stone is erected by Mr Tuckwell. Band Master 12th Regt of Foot in memory of his Beloved Daughter Martha, who Depd This Life 11th April, 1836. AGED Two Years & Eight Months. / Nip'd by the Wind's Unkindly blast / Parch'd by the sun's directer ray / The momentary glories waste / The short Lived beauties die away'.
We are extremely grateful to Catherine for sharing this photograph with us, and have added Martha's details to TACA's
register of army children's graves
.
PICTURE: THE GRAVE OF WILLIAM LANDSLEY (1843–45), GOLDENBRIDGE CEMETERY, DUBLIN, IRELAND
Lorna Liggett contacted TACA to tell us about the grave of William Landsley, 'son of Thomas Landsley, who was a colour sergeant in the 83rd Regiment of Foot. William departed this life on 2 January 1845, aged one year and ten months, according to his headstone in Goldenbridge Cemetery, Dublin. There is also a four-line poem which we can't decipher', she wrote. Lorna continued:
'Until recently, we thought that our great-grandmother, Catherine Landsley, was an only child as her father, Thomas, married in 1844 and died in 1847, months before she was born. Her mother, Eliza, remarried and Catherine was brought up by her grandparents, Thomas and Catherine Flinter, who lived in Kilkenny and Drumbanagher in County Armagh. It was only this year that I discovered the headstone of William Landsley in Goldenbridge Cemetery in Dublin. My sister was in Dublin that weekend, went to visit the cemetery and located the headstone. Thomas, his father, died the same year, and we found his headstone at St Mary's Church in Kilkenny. We hope to visit it soon. So sad that they are not buried together. All the family's men served in the 83rd Regiment of Foot in Ceylon and Canada.'

We are grateful to Lorna for telling us about William's grave, and have added his name to our
register of army children's graves
.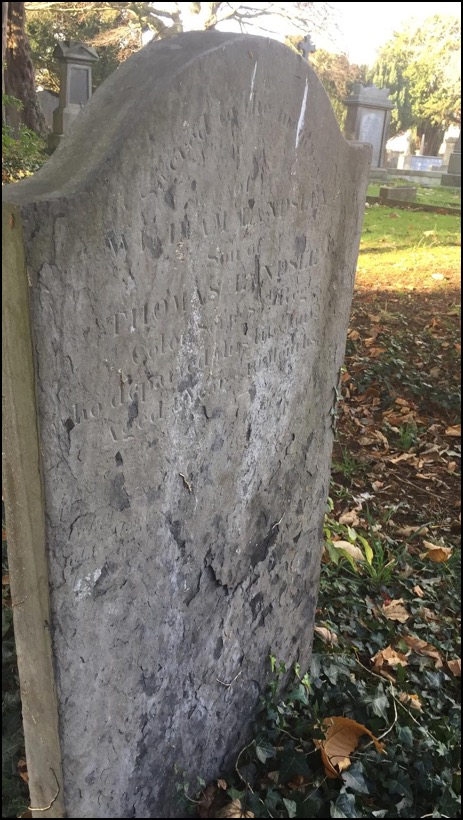 PICTURE: THE GRAVESTONE OF MARTHA PRISCILLA WADE (1842–51), ARBOUR HILL CEMETERY, DUBLIN, IRELAND, AND THE WADE FAMILY
We are grateful to Deb Rennie for contributing a photograph of the gravestone of Martha Priscilla Wade, an army child in her family, to TACA. Deb writes:
'She is buried with her father, Joseph Wade, my 4 x great-grandfather, who served in the 60th Royal Rifles. At least two of Joseph and Martha Wade's children were born in Saint Helier, Jersey. One of those was Martha Priscilla, who is buried in the Arbour Hill Cemetery, in Dublin, Ireland, and Henry William Wade, who was born in 1836 (I suspect that he, too, died young as he was not with the family when they were in Newbury, Berkshire, in 1841, but I haven't managed to find a death record for him as yet).

Martha's entry in the Military Cemetery Register, Arbour Hill, 1851, reads as follows: "Martha P. Wade, Child, Military Prison, age 9 yrs; died 2 Octr [1851]; buried 3 Oct 2 [1851] Scarletina". In Martha Priscilla's 1842 baptism record, it calls Joseph a "Jaylor", so I still want to learn more about that: was it always his position in the 60th Royal Rifles (I bet it wasn't a popular job)? And was there a military prison at St Helier, Jersey? Or were the military also used as guards for the general prison?

I'm still searching for another of Joseph's sons, Charles, who was born in Dublin. I'm fairly certain that I have found a record of his enlistment in the British Army, but have no idea where he may have ended up. My great-grandmother, Daisy Clark (née Wade, Joseph's great-granddaughter), bought a notebook that had belonged to him, which is why I know that it's our Joseph who is buried in the Arbour Hill Cemetery as Charles makes note of his father's death date and burial dates. And their address – Military Prison, Arbour Hill, Dublin – is also given in the notebook.

The headstone that Martha Priscilla shares with her father has been moved from the original grave site and has been placed against a nearby wall. The inscription reads: "In memory of / Joseph Wade / who died 2nd January 1863 / Aged 59 years / Also / Martha Priscilla / his Daughter / died 2nd October 1851 / Aged 9 years & 7 Months".'

Above:
The gravestone of Martha Priscilla Wade and her father, Joseph Wade (1803–63). (Photo: © Vaun Paul.)

We have now added Martha's name to TACA's
register of army children's graves
.
Deb has done further research into her army family:
'My 3 x great-grandfather, Frederick Mayo Wade (who served with the 2nd Battalion, 60th Royal Rifles), enlisted at the age of just fourteen in Dublin and served for many years overseas. My 2 x great-grandmother, Isabella Caroline Wade, was born in India, as were two of her brothers. Some of her brothers also enlisted. Representatives of the King's Royal Rifle Corps did some research for me, and were able to tell me where Frederick Mayo Wade's battalion was during the years that he served. He remained with the corps even after he was sent back to Kingston upon Thames, as I know that when three more children were baptised (including one set of twins), their abode was listed as Kingston Barracks; it was suggested that Fred may have stayed on to train other soldiers. It was also suggested that when he first enlisted as a fourteen-year-old, he may have been a bugler, and I know that he must have had some musical training after his army life was finished because the last census return I have for him gives his occupation as musician, so it all adds up.'

If this family is part of your family tree, Deb would love to hear from you: 'I would be so pleased to be able to share what I've found . . . I've found the Wades an interesting bunch, and your website has certainly helped me in trying to understand what their lives may have been like'. Deb can be contacted by e-mail: debrennie@live.com.
ARMY CHILDREN'S GRAVES AT THE MILITARY CEMETERY, KING'S ISLAND, LIMERICK, IRELAND
TACA is grateful to Aoife Bhreatnach (
@GarrisonTowns
on Twitter) for having drawn our attention to the army children's graves featured on Sharon Slater's website,
Limerick's Life
, and to Sharon (
@limerickslife
) for allowing us to link to them. The graves are located within the Military Cemetery on King's Island, Limerick, in Ireland.
The inscriptions of the seven army-children's gravestones that Sharon has highlighted are reproduced below; click on the highlighted number in square brackets next to the child's name and then click on the corresponding number on Limerick's Life's
King's Island Military Cemetery
's webpage to view his or her headstone.
'
Mary Jane Shute
[2]
:
In memory of Mary Jane daughter of William Henry and Anne Shute his wife, died 10 November 1869 age 11 years and 6 months, her end was peace, to know her was to love her.


William Carroll
[4]
:
Sacred to the memory of William Carroll son of C Sej I S Carroll, who died October 1856 aged 8 years.


Oscar Osborne Land
[7]
:
Oscar Osborne dearly loved son of Oscar Land 2nd Black Watch. died March 18 1892 aged 3 years 3 months.


Charles McLaggan Fleming, William Fleming and Thomas Leckie Fleming
[8]
:
To the memory of Charles McLaggan died 30th September 1891 aged 8 years 11 months. William died 3rd October 7 years 6 months. Thomas Leckie died 13th October 1891 aged 5 years 3 months. The dearly loved children of William and Jane Fleming who died of Diptheria at New Barracks Limerick.


John Langbridge
[13]
:
In memory of John beloved child of Mr Serj H Langbridge RE and Annie his wife, who died 29th July 1871 aged 1 year and 9 months. For little children come unto me.'

We have also added these names to TACA's
The Army Children Graves Register
.
REVIEW:
WHO WAS SAPPER BROWN? REMEMBERING BRITISH MILITARY BURIALS IN CYPRUS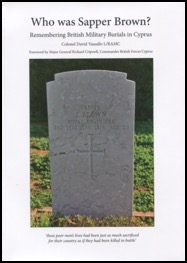 In his introduction to
Who was Sapper Brown? Remembering British Military Burials in Cyprus
, Colonel David Vassallo explains that when paying his respects at the grave of Sapper Brown while posted to Cyprus, he was inspired to write a book commemorating all British and Commonwealth serving military personnel and their accompanying dependants buried in the cemeteries on Cyprus from 1878, when the Ottoman Empire granted control of Cyprus to Britain, to date.
The result of his resolution is a large, handsome book, lavishly illustrated with colour and black-and-white historical records and images, along with maps and diagrams. Also included are high-resolution photographs of the twelve surviving Cypriot cemeteries containing British military burials (over 1,200 in all, including dependants) as they appear today. The meticulously researched text, with supplementary footnotes and references, is clearly and informatively written, not least in explaining the critical historical events that swelled the cemeteries of Cyprus and in contextualising the diseases that killed so many, as befits the author's status as a colonel in the Royal Army Medical Corps.
Bookended by an overview of the cemeteries and rolls of honour, a chapter is devoted to each cemetery, which are presented in chronological order according to the date of their earliest military burial: Kyrenia (1878), Mathiatis (1878), Paphos (1878), Wayne's Keep (1879), Troodos (1879), Larnaca British Cemetery (1879), Nicosia British Cemetery (1880), Limassol Greek Cemetery (1882), Polemidia (1882), Famagusta (1883), Limassol RC Cemetery (1915), Nicosia War Cemetery (1940) and Dhekelia (1960). The location of each cemetery and directions to it are given at the start of the chapter, after which the illuminating commentary sets the cemetery in its historical context and relates the human stories behind individual graves and memorials. From that of Sergeant Samuel McGaw, VC, who died of heatstroke in 1878, through those of servicemen who fell during World War I and II, military veterans, Commonwealth citizens and United Nations peacekeepers, to those of members of a German JU 88 bomber crew shot down over Cyprus in 1944, the graves paint a varied and cosmopolitan picture. Where appropriate, each chapter concludes with visiting information, recommended reading and relevant websites.
ARMY CHILDREN'S GRAVES ON CYPRUS
So who was Sapper Brown? Well, the story of his life and death in 1879, at the age of twenty-nine, is related in Chapter 2. His grave, in Wayne's Keep Cemetery, lies next to that of army wife Catherine Cutcliffe, who was murdered by an EOKA gunman in 1958, during the Cyprus Emergency. This section of the cemetery also includes the graves of twenty-four infants who died aged up to a year old between 1955 and 1959. Indeed, as Major General Richard Cripwell, Commander British Forces Cyprus, notes in the foreword to
Who was Sapper Brown?
, 'this book is not just about service graves but the whole of our community, as the graves of wives, husbands and children tell their own stories'.
Mysteries often present themselves when one looks at army children's graves. For example, the mystery of the unlikely death date of Mary Jane Adams, the one-year-old daughter of Sergeant Robert Adams, which the author resolves as actually having occurred in 1879, rather than 1859, as is incorrectly stated on her headstone in Troodos Military Cemetery. (See also Judith Millidge's contribution to TACA,
'PICTURES: TROODOS MILITARY CEMETERY, CYPRUS'
.) Tragedy is inherent in the inscriptions of infants' graves, so pity Elizabeth Hamilton, an army wife who buried not only her thirty-eight-year-old husband, but also their four-month-old daughter in the same cemetery within a month of each other in 1894 (see again
'PICTURES: TROODOS MILITARY CEMETERY, CYPRUS'
). Another grave highlighted on TACA, that of Violet Amelia Brightwell (see Clement Chapman's contribution,
'PICTURE: THE GRAVE OF VIOLET AMELIA BRIGHTWELL (1874–80), AY NIKOLAOS GRAVEYARD, LIMASSOL, CYPRUS'
), is noted in
Who was Sapper Brown?
as being one of the three earliest British graves in the Greek Cemetery of St Nicholas, all of them of young children.
The graves of army children who died relatively recently give one especial pause for thought. For example, the chapter on Dhekelia British Military Cemetery, which opened in 1960 and is still in use, notes that:
'This cemetery is perhaps the most poignant and moving of British military cemeteries in Cyprus, for visitors will inevitably be struck by the high number of graves of infants and young children. Many rows are between half and three quarters full of burials where the age at death is less than five years and is often only measured in days. Occasionally no age is given on the headstone (which usually indicates a stillborn child). Some 500 of the 1,080 burials are of infants or children, many from the early 1960s. This has given rise to much speculation as to the cause of their death over the years, and controversy that has only recently been answered officially, though lack of public awareness of the official findings causes the speculation to rumble on locally.'

Included in this chapter is a photograph of the headstone of six-month-old Diane Eastmond, who suffered a cot death in 1965. In her account of life as a service wife in Cyprus during the 1960s, Mrs Anne Morgan-Jones explains that the 'generally accepted cause [for the large number of babies' graves] was some kind of viral pneumonia which acted very swiftly'. The 2010
Report on Deaths of Infants and Children of Military Personnel in Cyprus 1960–1966
, by Professor S J W Evans, is also cited, notably its conclusion that infant mortality rates on Cyprus during the early 1960s were not incompatible with what might have been expected on the island at that time. The chapter ends with a section succinctly setting out the reasons for the improvement in neonatal and infant mortality rates in Cyprus since the 1960s, for which army families can only be thankful.
AN ILLUMINATING GUIDE
An invaluable guide for those visiting the island's military cemeteries,
Who was Sapper Brown?
is also a treat for the armchair traveller, providing as it does a fascinating insight into the lives and times of those British and Commonwealth military personnel and dependants who are buried in Cyprus.
Who was Sapper Brown? Remembering British Military Burials in Cyprus,
by Colonel David Vassallo L/RAMC, was published in 2014. To obtain a copy of this illustrated, 228pp book, which costs £14, plus £3 postage and packing (UK mainland), e-mail DJVassallo@aol.com. ('Profits from the distribution of the book will go towards the maintenance of the cemeteries where British and Commonwealth sailors, soldiers and air force men and women, and their dependants, of all faiths and none, are buried or commemorated in Cyprus.')

PICTURES: TROODOS MILITARY CEMETERY, CYPRUS
Judith Millidge kindly photographed some army children's graves in the military cemetery, Troodos, Cyprus, for TACA. 'The British loved the Troodos mountains', she writes, 'and used them as they did Indian hill stations to retreat from the brutal summer weather on the coast. This cemetery (which is currently very inaccessible) is just outside the main resort and was used until 1934.' (See also 'REVIEW:
WHO WAS SAPPER BROWN? REMEMBERING BRITISH MILITARY BURIALS IN CYPRUS
', above.)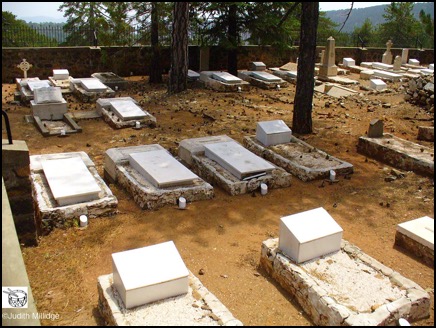 Above:
A view of Troodos Military Cemetery looking south.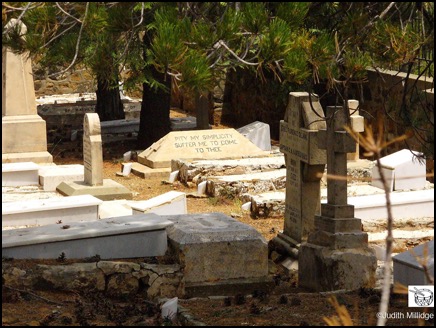 Above:
A view of Troodos Military Cemetery looking west.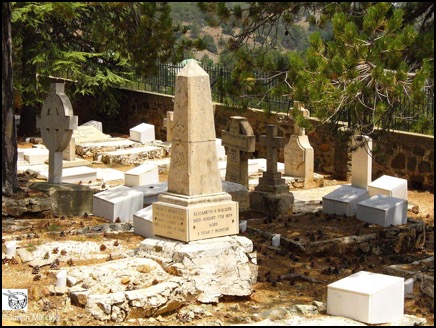 Above:
A view of Troodos Military Cemetery looking south-west.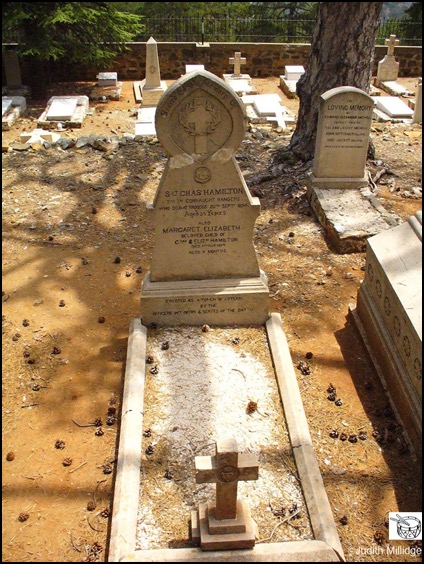 Above:
The grave of Margaret Elizabeth Hamilton, the daughter of a sergeant in the Connaught Rangers, who died at the age of four months in 1894, and who is buried with her father.
Above:
The grave of Mary Jane Adams, whose father was a sergeant in the Royal Engineers when she died in 1859, aged one year and ten months, according to her headstone. In his book '
Who was Sapper Brown?
, Colonel David Vassallo establishes that her death date was actually 1879, not 1859..
PICTURE: THE GRAVE OF VIOLET AMELIA BRIGHTWELL (1874–80), AY NIKOLAOS GRAVEYARD, LIMASSOL, CYPRUS
TACA was pleased to receive the following message from Clement Chapman, along with the photograph below:
'Walking around the Ay Nikolaos Graveyard, Limassol, Cyprus, I came across this grave of Violet Amelia Brightwell, aged 6 years, 9 months. She was born on 29 January 1874 and died on 23 October 1880 (I checked the birth). She was the child of Charles (Charles Stephen John Brightwell, I think) and Lydia. The grave is in the older part of the graveyard, quite unkept. It is a Greek Cypriot cemetery; Violet's seems to be the oldest headstone there.'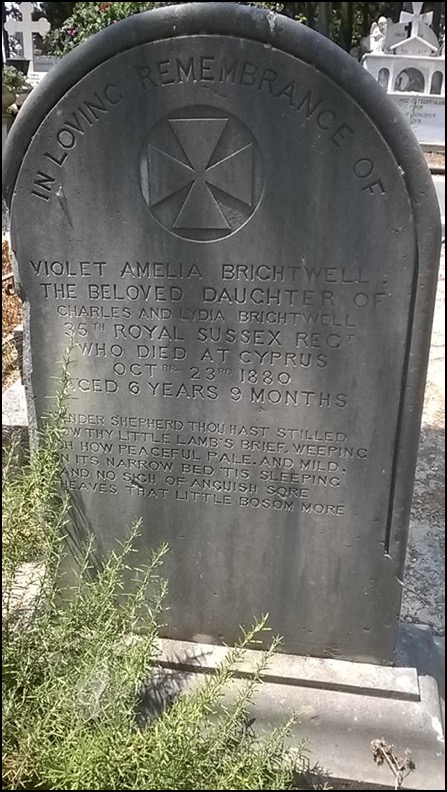 The text carved on the headstone reads as follows:

'In loving remembrance of Violet Amelia Brightwell.
The beloved daughter of Charles and Lydia Brightwell
35th Royal Sussex Regt
Who died at Cyprus
Octbr 23rd 1880
Aged 6 years 9 months.

Tender shepherd thou hast stilled
Now thy little lamb's brief weeping
Ah, how peaceful pale and mild
In its narrow bed 'tis sleeping
And no sigh of anguish sore
Heaves that little bosom more'

Following Clement's lead, we investigated a little further, and learned that Violet was indeed born on 29 January 1874 in Cork, Ireland, to Charles Stephen John Brightwell and Lydia Dodson.

We are most grateful to Clement for having contributed this photograph to TACA. Violet's name has now been added to the register of army children's graves. (See also 'REVIEW: WHO WAS SAPPER BROWN? REMEMBERING BRITISH MILITARY BURIALS IN CYPRUS', above.)

PICTURE: THE GRAVE OF MABEL AGNES MASON (C.1888–90), PIETA MILITARY CEMETERY, MALTA
We are most grateful to Gordon Caldecott for contributing the following information and photograph of Mabel Agnes Mason's grave.
'Mabel Agnes Mason was the two-year-old daughter of Colour Sergeant Alfred Mason, of the 1st Battalion, Shropshire Light Infantry, and Helena Mason. Mabel was born circa 1888, died on 14 January 1890 and is buried in Pieta Military Cemetery, Malta. Sadly, she has no headstone to mark her grave, but her last resting place can be clearly seen in row 14, grave 4, within the cemetery.'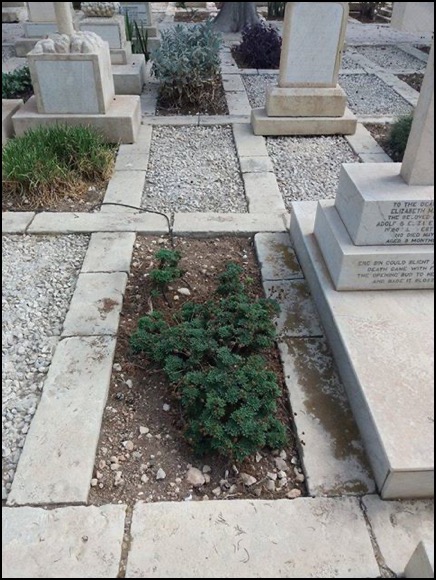 Thanks to Gordon, we have now added Mabel's name to TACA's register of army children's graves.

TACA CORRESPONDENCE: HELP SOUGHT IN LOCATING THE DOVER GRAVE OF EVA MARY LORNA BEECRAFT, 1903-7
Yvonne Spargo is looking for an army child's grave. She writes of her great-aunt, the child in question:
'My grand-aunt, Eva Mary Lorna Beecraft ("Lorna"), died on 14 October 1907 from scarlet fever upon returning to England from India. She was four years old at the time of her death. Both Lorna and her mother (my great-grandmother), Eva Mary Beecraft, were confined to the cottage hospital in Dover, Kent. My great-grandfather, Ernest Walter Beecraft, was a sergeant major in the 2nd Northumberland Fusiliers. I have recently acquired her death certificate, and would like to find her burial place, which is probably in Dover. Can you help me locate her grave after all this time?'
Please e-mail Yvonne (yspargo@yahoo.com.au) if you think that you can help her in her search for Lorna's grave.

TACA update: Stewart A May has located Lorna's grave in St James's Cemetery, Dover, see below: 'TACA CORRESPONDENCE: LOCATING AND RECORDING TWO ARMY CHILDREN'S GRAVES IN DOVER, KENT'.

TACA CORRESPONDENCE: LOCATING AND RECORDING TWO ARMY CHILDREN'S GRAVES IN DOVER, KENT
Stewart A May has contacted TACA regarding two army children's graves. The first is that of Eva Mary Lorna Beecraft, the great-aunt of Yvonne Spargo, who had appealed to TACA's visitors for help in locating her grave (see above, 'TACA CORRESPONDENCE: HELP SOUGHT IN LOCATING THE DOVER GRAVE OF EVA MARY LORNA BEECRAFT, 1903-7'). Stewart reported that he had located this grave for Yvonne and had sent her pictures, continuing, 'there was no marker, but, with the help of Dover cemeteries' department on the phone, I managed to work my way through the headstones till I located a headstone that was next to where Lorna was laid to rest'.

Stewart also explained that, 'whilst searching for another army child's cemetery plot in St James's Cemetery, Dover, Kent, England, I came across this one:
MARY CLARA POPPLESTONE,
Died: 26th November 1866.
Age: 17 years.
second daughter of:
Sergeant Major Popplestone, Royal Artillery'.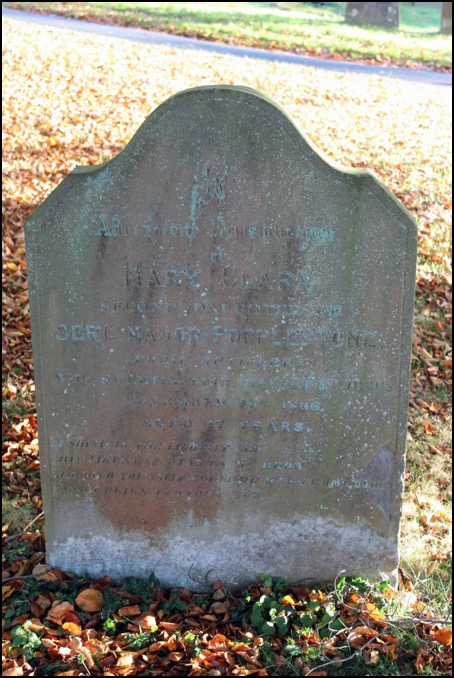 Stewart kindly photographed Mary Clara Popplestone's headstone, and his photograph appears above. We are immensely grateful to Stewart for his detective work, as well as for enabling us to add Mary's details to our army children graves register.

TACA CORRESPONDENCE: HELP REQUESTED IN RESEARCHING THE DEATH AND BURIAL PLACES OF THREE ARMY CHILDREN
TACA correspondent Barbara Murphy-Bridge is researching her family history, and wonders whether anyone can help her in relation to her great-grandfather – a soldier – and his family. Barbara writes:
'My great-grandfather, James Alexander Ward (who was born in Londonderry, Northern Ireland, c.1860s, and who died in 1921), was married in 1891 in Strabane, to Mary Anne McCool. Originally with the Royal Inniskilling Fusiliers before joining the Royal Garrison Regiment in Malta, he rose to the rank of sergeant and served in both the Boer War and World War I. His father, John Joseph Ward, was also a soldier, as was his brother, Robert Thomas Ward (who was born in approximately 1864 and was killed in action in France in 1916).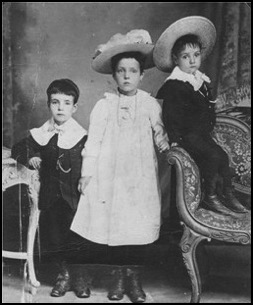 James and Mary had three children: my grandmother, Annie Ward (born in 1892 in Strabane); John James Ward (born in 1894 in Londonderry; he later joined the Royal Garrison Artillery, died in 1919 and was buried in Belgium); and James Alexander Ward (born in 1897 in Carrickfergus). I've had had no luck in my search for James Alexander Ward junior's year of death (possibly during the 1970s), or in locating where he is buried, and would appreciate help with these details.

Above:
The three Ward/McCool children, photographed in Malta in around 1902.
James Alexander Ward senior, who was left with three small children when his first wife died in Londonderry in 1900, then married Mary Jane Dugan/Duggan at Longtower, Londonderry, on Christmas Day 1900. They went on to have ten children, and of those ten only one followed in his father's footsteps in joining the military: the Royal Inniskilling Fusiliers, the same regiment as his dad. His name was Arthur Vincent Ward, who was born at St Johnston, Taughboyne (Eire), in 1911. He joined the army in 1930 and served for twenty-five years in Egypt, Cyprus, Burma (where he escaped from Japanese captivity) and elsewhere; for his last few years in the army he was in Kineton (Stratford-upon-Avon), employed in military intelligence and security. He retired as a major and died in 1997.

After James A Ward senior and Mary Jane Dugan/Duggan's marriage, the family moved to Malta, where James served with the Royal Garrison Regiment (specifically with the 79th (The Queen's Own Cameron Highlanders)). Records show that one of their children, Joseph Alexander Ward, was born in 1904 in Ghajnsielem, on the island of Goza, and that two infant children died at around this time, one being a girl, Margaret Josephine Ward, who was born on 16 December 1902, in Valletta, and who died in 1903. Locating Malta gravesites for two infants is going to be a real challenge!'

If you think that you can help Barbara in finding any of these three graves, please e-mail her c/o TACA and we'll pass on your message. And click
here
for details of Barbara's quest to learn more about James Alexander Ward senior ('TACA CORRESPONDENCE: CAN YOU HELP FLESH OUT THE DETAILS OF A SOLDIER–FATHER'S LIFE AND SERVICE?').
TACA CORRESPONDENCE: MEMORIAL AT ALL SAINTS' CHURCH, HUTTON, BRENTWOOD, ESSEX
Judy Warner contacted TACA with a query regarding a memorial that she spotted at All Saints' Church, Hutton, Brentwood, Essex, to four former pupils ('Dukies') of the Duke of York's Royal Military School in Dover, Kent (which still educates the children of British forces personnel,
http://www.doyrms.com
). Judy wrote:
'Having seen the memorial to four Dukies in this churchyard, I was intrigued, and want to find out more about these boys. Why they are listed as dying at Hutton, and why just these four covering the period 1917 to 1919? How and why was the memorial raised in 2006?'
Art Cockerill, an expert on the history of the Duke of York's Royal Military School, responded, kindly supplying the following information:
'For the duration of World War I (1914-1918), the Duke of York's School, which had been relocated from Chelsea, London, to Dover, Kent, in 1909, was evacuated to Hutton, near Brentwood, Essex. The reason for the evacuation was to provide the military authorities with a transit point for troops moved to and from the Western Front. The Dukies buried in the graveyard of All Saints' Church, Hutton, died of various ailments while the school was in its wartime quarters at Hutton. The memorial to the four Dukies in question was erected by the Old Boys' Association in 2006; rather later in the day, of course, but in dutiful memory of the four boys who died at Hutton.'

For further information on the Duke of York's and Royal Hibernian military schools, visit Art's website:
http://www.achart.ca
.
TACA CORRESPONDENCE: CAN YOU HELP LOCATE TWO BABIES' GRAVES IN INDIA?
Diana M de Marco has contacted TACA with the following request for assistance in locating the graves, in India, of two babies who died during the 1920s.
'My small brother, Anthony Errol Prior-Palmer, died when the 9th Lancers were stationed either at Trimulgherry or Secunderabad during the 1920s. Either in All Saints' Church or another church, there is a wooden panel with the names and dates of my tiny brother and another small baby who died at about the same time. For some time, a charming Indian woman tended the children's graves.

My mother and father have both gone, and we would very much like to know where these two tiny people are buried so that a young relative can visit the graves.

My father was then Captain Otho Prior-Palmer, and my mother (born Frankland) was Barbara Mary Prior-Palmer. She was very young when her baby died. Despite the desperate help of some nuns, both babies died in their first few months of life. If you know of anyone who might know where they are buried and/or in which church is the finely carved wooden memorial to both children, I would be very grateful indeed.'


Having noted Diana's request for help, Beverly Hallam, research officer at the
Families in British India Society (FIBIS)
, managed to locate the burial entry for Anthony Errol Prior-Palmer in the Ecclesiastical Returns held at the British Library. This states that Anthony was buried in Bolarum Church Cemetery, which Beverly believes may have been attached to the Holy Trinity Church, Bolarum. Many thanks to Beverly, and to Valmay Young, FIBIS' webmaster, for their help in discovering this information.
If you can assist Diana further, please contact TACA, and we'll forward your message to her.
PICTURES: SHORNCLIFFE MILITARY CEMETERY, KENT
Peter Malan photographed a number of army children's graves at Shorncliffe Military Cemetery in Kent in 2010. Along with his photographs, he sent the following description of the cemetery: 'The graveyard is in a lovely setting. There seem to be various graves in different positions, including some in overgrown areas and some with concrete markers, but with no name or any details at all'.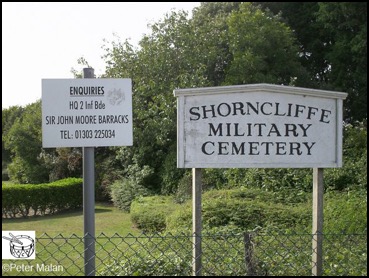 Left and below:
Four general views of Shorncliffe Military Cemetery.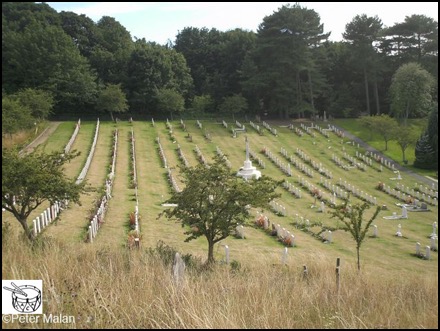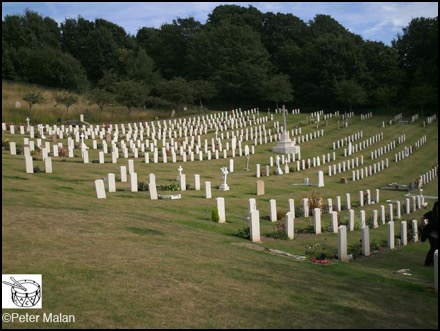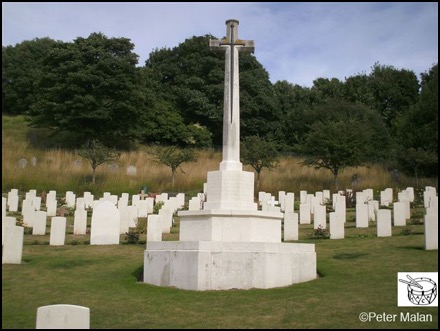 Below:
Army child Molly Muriel Bailey, whose death is commemorated at Shorncliffe Military Cemetery, died in March 1926, aged four months.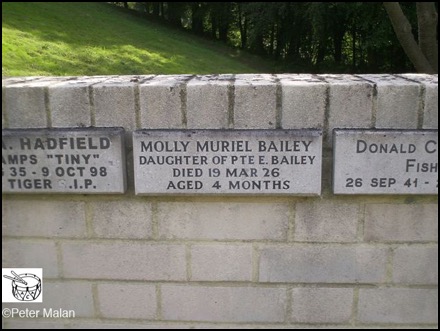 Below:
The grave of Linda Carruthers, the daughter of a private in the King's Own Scottish Borderers (KOSB), who lived for only seven hours before her death in 1964.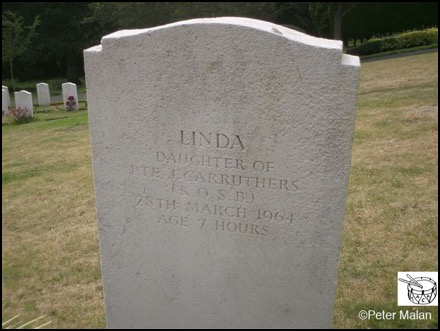 PERSONAL STORY: 'REMEMBERING MY SISTERS, MY PARENTS' DARLING TWIN DAUGHTERS'
Janet Turner (née Limpkin), whose father served in the Royal Horse Artillery, contacted TACA to share the sad story of her twin sisters.
'I think that Patricia and Margaret, my twin sisters, died at two and six weeks, the death certificate stating "inertia".

The information I have is that my mother went out to Bombay [now Mumbai, India] to get married on 19 March 1930 and the twins were born in Meerut in October 1931 and died in Meerut in 1931. If I remember correctly, my mother said that one twin lived for two weeks and the other for a couple of weeks longer. I know that my mother had a hard pregnancy and believe that my father was on manoeuvres in the hills when they were born. My poor mother had a bad time. She always said that the twins died because she could not feed them herself and was not allowed to use the wet nurse she had arranged for.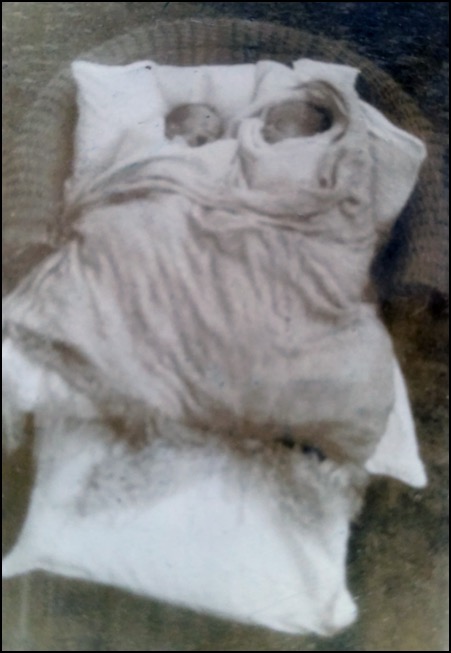 Above:
The only photo that I have of the twins. On the back, in very faint pencil, my mother has written "Pat and Peggy 24.11.31 Pat singing".
I have a photograph of their gravestone, which is a large white cross on plinths, with the inscription, which is difficult to read in parts (the dates are illegible): "In Ever Loving Memory of / Patricia and Margaret / the darling twin daughters of / B.S.M. and Mrs. J. Limpkin / . . . RHA / Born . . . October . . . / Died . . .".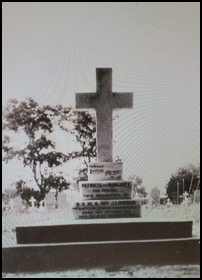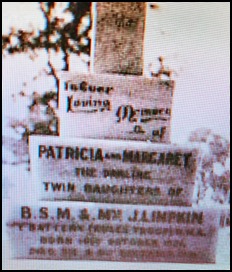 Above,
left and right:
My twin sisters' gravestone.
My brother, Mike, was born in England in 1934, so my parents were obviously posted home, and then they were in Egypt when I was born in 1938. Mum, Mike and I were evacuated down to South Africa, to Amanzimtoti, near Durban, when it was considered that dependants had to leave Egypt as World War II escalated. My father was in the desert for the duration of the war.'
We thank Janet for telling us about Patricia, Margaret and her family, and are honoured to add the twins' names to our
army children graves register
.
TACA CORRESPONDENCE: CAN YOU HELP LOCATE A POST-WAR ARMY CHILD'S GRAVE IN SCHLESWIG-HOLSTEIN, GERMANY?
Richard Kirkman is trying to locate the grave of his brother, an army child who was born and died in 1950, in the northern German
Land
of Schleswig–Holstein. As Richard explains: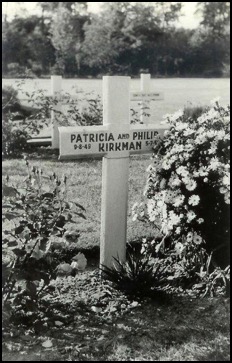 'My father was in the British Army (BAOR [British Army on the Rhine]), in the Royal Army Service Corps (RASC), and we lived in the Lübeck and Neumünster area from 3 September 1946 to 30 September 1954. Philip was born in Lübeck, and died on the same day, 5 July 1950. I have a copy of his birth and death certificates, and a photograph of his grave. I am now trying to locate his grave site, which I believe is somewhere in the area near Lübeck.

I have been searching for Philip's grave for a couple of years, without much success. I have attached a photo of it [
right],
with its metal-cross headstone, which is inscribed with both Philip and his sister Patricia's names. Interestingly, the grave just behind Philip's bears the inscription 'SON OF SGT WC FINN'. The third metal-cross headstone visible in the photograph bears the family name 'ORR'.

I visited Lübeck a couple of years ago, but did not have much information about the grave site at that stage. My wife and I will be back in Lübeck from 17 to 21 October 2013 and are hoping to finally find where Philip is buried.'

If you think that you can help Richard in his quest to visit his brother's grave, please e-mail him at bkandrc@tpg.com.au. As Richard says, 'Any assistance will be greatly appreciated'.
PERSONAL STORY: 'COMMEMORATING MY SISTER, VALERIE ANN BEETHAM, 1948–51'

David Beetham, whose father served in the Loyal Regiment (North Lancashire), has contacted TACA to request that the grave of his sister, Valerie Ann, be added to the
Army Children Graves Register
. David writes:
'Valerie was born on 13 October 1948. She is buried in Moascar Military Cemetery, Egypt. I was only one when she died on 4 November 1951, one day after my first birthday. I would love to visit, but don't think it would be safe at present.'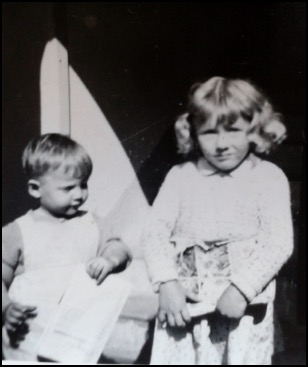 David has contributed a photograph of him and Valerie in Egypt
(left)
, along with another of her grave in Moascar
(below)
.
We are grateful to David for telling us about Valerie Ann, and have added her name to the register.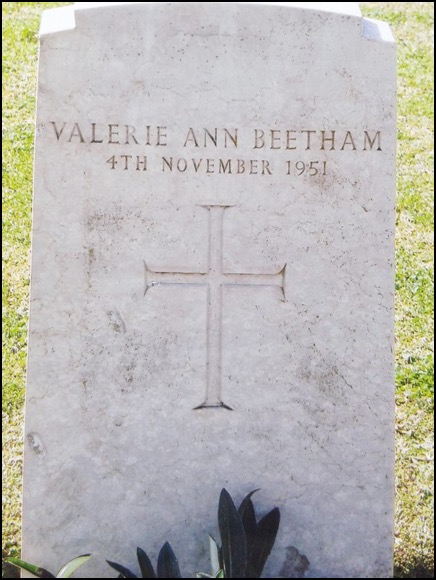 PERSONAL STORY: 'IN 2010, I VISITED MY BROTHER'S GRAVE AT TIDWORTH MILITARY CEMETERY'
Leslie Rutledge's baby brother, Stephen, was born and died at Tidworth Military Hospital, Wiltshire, in 1955. In '
PERSONAL STORY: LIFE AS AN ARMY CHILD, 1950–70, PART II
', Leslie explained the circumstances of Stephen's death and burial. He later added a postscript to this sad story:
'In 2010, I visited my brother's grave at Tidworth military cemetery. Luckily for me, the groundkeeper was at home, and we were able to establish very quickly where my brother was buried (the whole cemetery,
left, i
s extremely well documented). Stephen's grave
(below)
is today marked with a stone of identification and lies among three rows of children's graves of about sixty children who, like my brother, died very early in life between 1945 and 1970. It was especially pleasing to see that a lot of those graves have since had memorial headstones placed on them, something that families will have to look at. Stephen is also buried between two girls, which is nice – there's nothing like a bit of female company!'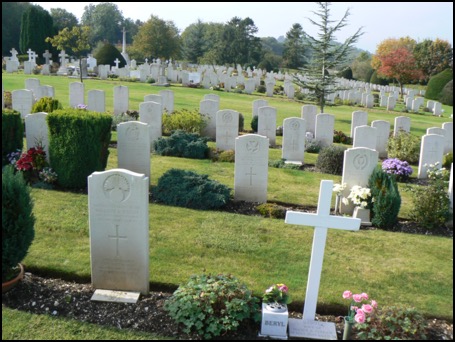 See also below, 'PERSONAL STORY: 'MY MISSION TO ERECT A HEADSTONE ON MY BROTHER'S GRAVE'.
PERSONAL STORY: 'MY MISSION TO ERECT A HEADSTONE ON MY BROTHER'S GRAVE'
In his contribution '
PERSONAL STORY: LIFE AS AN ARMY CHILD, 1950–70, PART II
', Leslie Rutledge documented the birth and death of his brother, Stephen, in Tidworth, Wiltshire, in 1955. He later reported (in 'PERSONAL STORY: 'IN 2010, I VISITED MY BROTHER'S GRAVE AT TIDWORTH MILITARY CEMETERY'', see above) that he had located and visited Stephen's grave, but found it without a headstone. Having decided to erect a memorial stone on his brother's grave, in May 2011, Leslie described the 'administrative nightmare' that he encountered as a result:
'I knew I couldn't just go to a local stonemason and have it done as these things are regulated under strict rules. Was the local council or the military responsible for the keeping of that cemetery? So I made a few inquiries and got absolutely nowhere. It seems that service wives and children mean nothing to the CWGC [Commonwealth War Graves Commission] or the MoD [Ministry of Defence]. I remembered that a lot of children in Tidworth military cemetery had had stones put on their graves, and so I drove back down to Tidworth to find out first-hand how that had been achieved.

The cemetery caretaker couldn't tell me anything about how I should go about having a stone put on a grave, but he did give me a contact address in camp. I drove up to the camp and was met at the gate by a retired lieutenant colonel who was in charge of the logistics of the cemetery. He then introduced me to two ladies who knew the rules inside out, or so they thought. The CO [commanding officer] then came in to see us and we had a chat and a cup of tea – I must admit that we were treated very well by all. At this point, we established that the MoD, and not the local council, was responsible for military cemeteries. But that's where the problems started because the MoD had changed the rules on those graves some five years ago, the reasoning behind it being that some cemeteries were becoming a mess (with gravestones of all shapes and sizes), and the MoD wanted to stop that. Of course, I gave them a huge headache because my brother's grave was non-military (i.e., he was not a serving soldier) and more than fifty years old.

The first rule that they brought in was that all gravestones had to be of the typical military nature (of white sandstone), and all had to conform with military dimensions. "No problem," I thought, "that sounds fair enough", but then the hammer fell when we were told that non-serving personnel were no longer allowed to have a headstone. The wife of a serving soldier who dies is not allowed to have a headstone unless her husband is also buried in the same grave later . . . and as children will always be alone, it seemed that no headstone is allowed at all. There did seem to be one exception to that rule, which allowed a grave to be marked with a very simple, flat memorial stone with the occupant's name on it. Anyway, the ladies promised to look into the whole matter, which included contacting the MoD to find out exactly what I can do. It would be a real pity if Steven's grave remains as concrete block number F094a.'
Eventually, Leslie was given permission to erect a 'dependant's headstone' on Stephen's grave, and after completing the necessary MoD paperwork, contacting the stonemason, finalising the details of the headstone and inscription and paying for it, this was duly done early in 2012. Shortly afterwards, Leslie sent TACA following message and photographs:
'Just to let you know that the mission to erect a headstone on my brother's grave at Tidworth military cemetery is now complete. The headstone was erected some three weeks ago and today my mother and all my siblings (with the exception of my brother, George) travelled to Tidworth to inspect it and lay flowers. For my mother, it was the first time that she had been back to the grave since she left Tidworth in 1956, and for my sisters, it was the first time that they had been to the grave – three of them were not even born when Stephen died. The whole process has taken me some eighteen months to complete, but I think you'll agree that the wait was worth it. Now Stephen can finally rest in peace in a recognised grave.'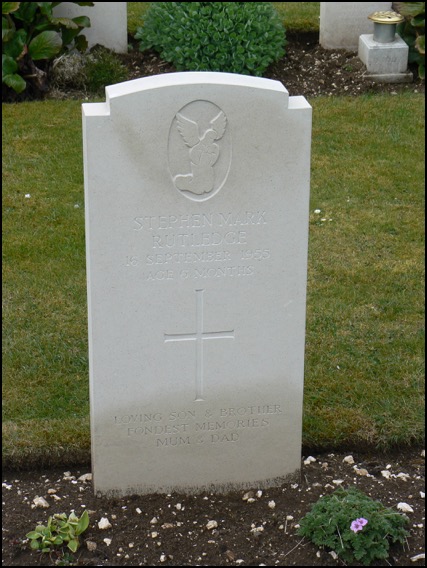 Above and below:
Stephen Rutledge's newly erected headstone.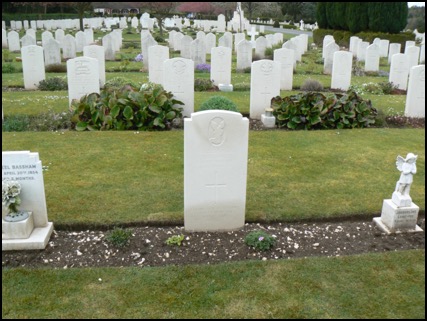 Below:
Stephen Rutledge's mother and siblings and the floral tributes that they laid on his grave.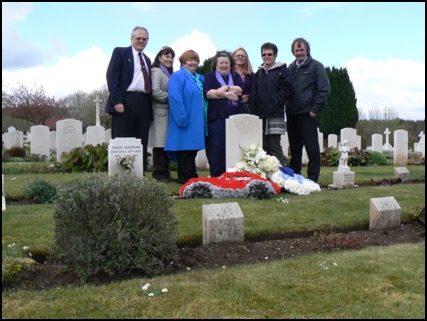 TACA CORRESPONDENCE: 'CAN YOU HELP ME FIND MY BROTHER'S GRAVE?'
Shelagh Jones contacted TACA for help in locating the grave of her brother, Graham, who was killed in an accident in Rinteln, (West) Germany, when he was five and Shelagh was a baby. Shelagh explained more:
'My father died many years ago. I am fifty-one now, and was born, with my twin sister, Margaret, in 1959, at BMH Rinteln. We had two brothers, Graham and Alan. Graham was knocked down and killed at the army camp that was there at the time, where my father, who was in the Royal Artillery, was stationed. He was only five years old. There would have been a lot of news about it at the time.

What I would dearly love to find is his grave. Will it be in the local cemetery or the camp itself? His actual name was Stanley Graham Jones. Both of my parents are dead, so I can't get information from them, but I remember seeing a photo of the grave: there was a white cross and the name Jones on it. I also know that my parents were asked if they wanted to bring his body back to Scotland, where he was born, but they said "No, bury him at Rinteln". My father was Frederick Jones and my mother was Margaret. They went over to Rinteln with two boys, and, having been born there, we twin girls were only six months old when Graham died on 29 July 1959. Please help me find where he is.'
Shelagh also made the same request to the Commonwealth War Graves Commission (CWCG) and promptly received a reply containing details of a record indicating that her brother is buried at the British military cemetery in Hanover (or Hannover), Germany. Click
here
for further information about the Hanover Military Cemetery as given on the CWCG's website.
TACA CORRESPONDENCE: RONALD ARTHUR LIMBURN (1953–65), AN ARMY CHILD WHO DIED IN SINGAPORE AND NOW LIES IN HAMPSHIRE
Ronald F Limburn, who served in the Royal Army Ordnance Corps (RAOC) as a WO1 (conductor), has been in touch to tell TACA about his son, Ronald Arthur Limburn, who was born at Cambridge Military Hospital, Aldershot, Hampshire, on 23 September 1953, and who accompanied his parents to Singapore in November 1958. He lived with his family in Singapore until May 1961, and again from November 1964 until his death on 9 September 1965. His father writes:
'My son, Ronald Arthur Limburn, died on 9 September 1965 in Singapore, and was subsequently buried at Ulu Pandan Cemetery, Singapore. Ronald was buried near the plot of the first wife of Lance Corporal (later Captain, Queen's Gurkha Officer (QGO)) Rambahadur Limbu, of the Gurkha Rifles, who won the Victoria Cross during the Borneo Campaign.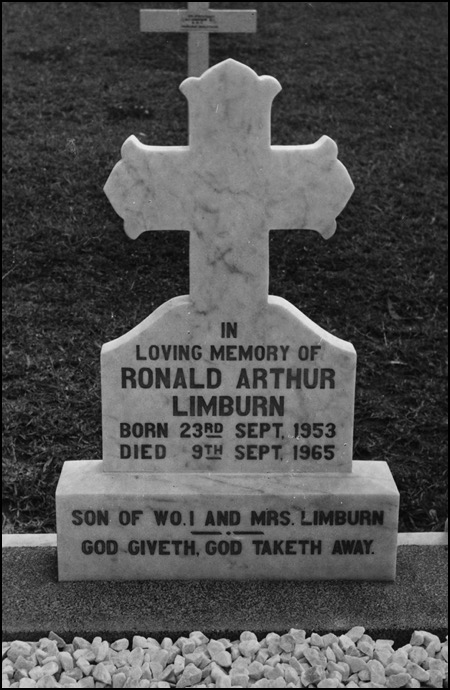 Above and below:
Two photographs of Ronald Arthur Limburn's grave in Ulu Pandan Cemetery, Singapore.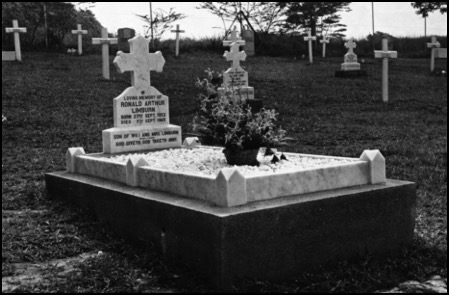 The Singapore government required the land of the cemetery for redevelopment in 1975. Ronald's remains were therefore cremated and are now buried at Waterlooville Cemetery, Hampshire (Borough of Havant).'

Above:
Ronald Arthur Limburn's grave at Waterlooville Cemetery, Hampshire.
LINKS
If you're searching for an army child's grave, the following links may be helpful.
CLICK HERE TO ACCESS THE ARMY CHILDREN GRAVES REGISTER