FAMOUS ARMY CHILDREN
Some well-known individuals were once British army children, among them:
writer and clergyman Laurence Sterne (b. Clonmel, Ireland, 1713-68);
soldier and colonial administrator Lieutenant General Sir Archibald Campbell, GCB (b. Glen Lyon, Scotland, 1769–1843);
inventor, soldier and politician Sir William Congreve (b. Woolwich, 1772–1828);
soldier Field Marshal Sir John Fox Burgoyne, GCB (b. London, 1782-1871);
soldier General Sir Charles Napier, GCB (b. London, 1782-1853);
soldier Lieutenant General Sir George Napier, KCB (b. London, 1784-1855);
soldier Field Marshal Sir William Maynard Gomm, GCB (b. Barbados, 1784-1875);
soldier Lieutenant General Sir William Napier, KCB (b. Celbridge, Ireland, 1785-1860);
nurse Mary Seacole (née Grant, b. Kingston, Jamaica, 1805-81)

(

see below

)

;

musician

Henry Lazarus

(b. London, 1815-95);

explorer Sir Richard Burton, KCMB, FRGS (b. Torquay, 1821–90);
soldier Field Marshal Lord Frederick Roberts, VC, KG, KP, GCB, OM, GCSI, GCIE, PC (b. Cawnpore, now Kanpur, India, 1832-1914);
soldier Field Marshal Lord Garnet Wolseley, KP, OM, GCB, GCMG, VD, PC (b. Golden Bridge, Ireland, 1833-1913);

s

ailor Captain Hugh Talbot Burgoyne, VC, RN (b. Dublin, Ireland, 1833-70);
soldier and administrator Major General Charles Gordon, CB (b. Woolwich, 1833–85);

musician

Alfred James Phasey

(1834-88);

composer

Sir Arthur Sullivan

(b. London, 1842-1900);

soldier and administrator Colonel Sir Robert Warburton, KCIE, CSI, (b. Afghanistan, 1842–99)

(for more from the British Library, click

here

)

;
garden designer Gertrude Jekyll (b. London, 1843-1932);
mathematician Percy MacMahon, FRS (b. Sliema, Malta, 1854–1929);

artist

James Prinsep Beadle

(b. Calcutta, India, 1863–1946);

soldier and explorer Lieutenant Colonel Sir Francis Younghusband (b. Murree, India, now Pakistan, 1863-1942);
Irish patriot and actress Maud Gonne (b. Tongham, 1866–1953);
film director, screenwriter and musician George Ridgwell (b. Woolwich, 1867–1935);
writer Cicely Hamilton (née Hammill, b. London, 1872-1952)

(see

http://www.persephonebooks.co.uk/pages/authors/?id=30

)

;
soldier Corporal John Shaul, VC (b. King's Lynn, 1873-1953);
soldier Field Marshal Sir Archibald Wavell, GCB, GCSI, GCIE, CMG, MC, PC (b. Colchester, 1883-1950);
soldier Field Marshal Sir Claude Auchinleck, GCB, GCIE, CSI, DSO, OBE (b. Aldershot, 1884-1981);
writer 'Susan Miles', the pseudonym of Ursula Roberts (née Wyllie, b. India, 1887-1975)

(see

http://www.persephonebooks.co.uk/ pages/authors/?id=57

)

;

writer

Enid Bagnold

, CBE (b. Rochester, 1889-1981);

artist Nina Hamnett (b. Tenby, 1890–1956);

musician

Debroy Somers

(b. Dublin, Ireland, 1890-1952);

soldier Major William La Touche Congreve, VC, DSO, MC (b. Burton, 1891-1916);

policeman

Detective Inspector David Herbert Cyril Nixon

(1894-1956);

soldier

Lieutenant General Sir Archibald Nye,

GCSI, GCIE, KCB, KBE, MC

(b. Dublin, Ireland, 1895-1967);

soldier, explorer and scientist

Ralph Bagnold

, FRS (b. Plymouth, 1896-1990);

actor John Loder (Lowe) (b. London, 1898-1988);
soldier Field Marshal Sir Gerald Templer, KG, GCB, GCMG, KBE (b. Colchester, 1898-1979);
artist and designer Roger Furse (b. Ightham, 1903–72);

soldier

General Sir Hugh Stockwell, GCB, KBE, DSO & Bar (b. Jersey, 1903–86);
soldier Major General Orde Wingate, DSO (b. Naini Tal, India, 1903-44);
writer Jocelyn Playfair (née Malan, b. Chakrata, India, 1904-96);
stage designer Oliver Messel (b. London, 1904-78);
writer Christopher Isherwood (b. High Lane, 1904-86);
artist John Aldridge, RA (b. Woolwich, 1905–83);
writer Anthony Powell, CH, CBE (b. London, 1905-2000);
writer Mollie Panter-Downes (b. London, 1906-97)

(see

http://www.persephonebooks.co.uk/pages/authors/?id=55

)

;
fashion designer Charles James (b. Camberley, 1906–78);
writer Christabel Bielenberg (née Burton, b. London, 1909-2003);

writer

Ursula Vaughan Williams

(née Lock, b. Valletta, Malta, 1911-2007);

actress

Judith Furse

(b. Camberley, 1912–74);

historian Professor Norman Gash, CBE (b. Meerut, India, 1912-2009);
writer Mary Wesley, CBE (née Mynors Farmar, b. Englefield Green, 1912–2002);
actress Vivien Leigh (née Vivian Hartley, b. Darjeeling, India, 1913-67);
writer Alexander Cordell (George Alexander Graber) (b. Colombo, Ceylon, now Sri Lanka, 1914–97);
journalist and author Harry Chapman Pincher (b. Ambala, India, 1914–2014);
soldier Lieutenant Colonel Sir David Stirling, DSO, OBE (b. Doune, Scotland, 1915-90);
actor and comedian Frankie Howerd (Howard), OBE (b. York, 1917-92);
writer and comedian Spike Milligan (b. Ahmednagar, India, 1918–2002);
actor Richard Todd (Palethorpe-Todd) (b. Dublin, Ireland, 1919–2009);
soldier and military historian Lieutenant Colonel Sir Julian Paget Bt, CVO (b. London 1921–2016);
poet Sidney Keyes (b. Dartford, 1922-43);
actor Sir Christopher Lee, CBE, CStJ (b. London, 1922–2015);
film director Lindsay Anderson (b. Bangalore, India, 1923-94);
film producer Anne Balfour-Fraser (b. Woking, 1923–2016);
artist Ron Olley (b.1923) (

see below

);
cricketer and cricket administrator Donald Carr (b. Wiesbaden, Germany, 1926–2016);
equestrian writer and editor Elwyn Hartley Edwards (b. at sea/Denbigh, Wales, 1927-2007);
model, architect and artist Lady Myrtle Acland (née Crawford, b. Stirling, 1928–2013);
soldier Major General Sir Jeremy Moore, KCB, OBE, MC and Bar (b. West Sussex, 1928–2007);
film director and producer Peter Yates (b. Aldershot, 1929–2011);
sculptor and printmaker Dame Elisabeth Frink, DBE, CH, RA (b. Thurlow, 1930–93) (

see below

);
actress and dancer Hermione Harvey (née Hudson, b. Mussoorie, India, 1931–2016);

immunologist

John Playfair

(b.1931, Gillingham);

actress

Prunella Scales

, CBE (née Illingworth, b.1932, Sutton Abinger);

polar explorer Sir Wally Herbert (b. York, 1934-2007);
artist, designer and writer Polly Hope (née Stockwell, b. Colchester, 1934–2013) (see http://www.pollyhope.com);
astrophysicist David Lynden-Bell (b. Dover, 1935–2018);
author, journalist and broadcaster Guy Lyon Playfair (b. Quetta, India, now Pakistan, 1935–2018);

soldier and

explorer Colonel John Blashford-Snell, OBE (b.1936, Hereford);
singer Engelbert Humperdinck (Arnold George Dorsey) (b.1936, Madras, now Chennai, India);
writer Jilly Cooper, OBE (née Sallitt, b.1937, Hornchurch);
film director Sir Ridley Scott (b.1937, South Shields);
journalist, author and broadcaster Peter Snow, CBE (b.1938, Dublin, Ireland);
actress Samantha Eggar (b.1939, Hampstead);
Lady Elspeth Campbell (née Urquhart, New Delhi, India, 1940–2023), wife of Sir Menzies Campbell, Liberal Democrat politician

(

see below

)

;
Formula 1 racing driver Mike Beuttler (b. Cairo, Egypt, 1940-88);
football player and manager Billy McNeill (b. Bellshill, 1940–2019);
theatre director Terry Hands (b.1941, Aldershot);
HRH Princess Muna al-Hussein (née Antoinette Gardiner, b.1941, Chelmondiston), wife of King Hussein and mother of King Abdullah II of Jordan;
actress Anna Carteret (née Wilkinson, b.1942, Bangalore, India);
Jane Clark (née Beuttler, b.1942), wife of Alan Clark, Conservative politician

(

see below

)

;
actress Sheila Gish (née Gash, b. Lincoln, 1942–2005);
Anglican

clergyman the Right Reverend Bill Ind (b.1942);
artist and designer Roger Dean (b.1944, Ashford);
explorer Sir Ranulph Fiennes, OBE (b.1944, Windsor);
writer Tim Heald (b. Dorchester, 1944–2016);
writer, comedian and musician Neil Innes (b.1944, Danbury);
soldier General Sir Mike Jackson, GCB, CBE, DSO, DL (b.1944, Sheffield);
film director Tony Scott (b.1944, Stockton-on-Tees);
actor Christopher Casanove (b. Winchester, 1945–2010);
musician, DJ, photographer and writer B P Fallon (b.1946, Dublin);

actress

Joanna Lumley

, OBE (b.1946, Srinagar, Kashmir, India)

(

see below

)

;

record-breaker and entrepreneur Richard Noble, OBE (b.1946, Edinburgh);
actress Charlotte Rampling, OBE (b.1946, Sturmer);
actor James Aubrey (Tregidgo) (b. Klagenfurt, Austria, 1947–2010);
actor and vigneron Sam Neill, DCNZM, OBE (b.1947, Omagh);
artist Alix Baker, FRSA, PCAFAS (b.1947, Southborough) (see http://www.alixbaker.com);
writer Ian McEwan, CBE, FRSA, FRSL (b.1948, Aldershot);
Anglican clergyman the Right Reverend Sir James Jones, KBE (b.1948);
Grand Master of the Sovereign Military Order of Malta Fra' Matthew Festing, OBE, TD, DL (b.1949, Northumberland);
writer Minette Walters (née Jebb, b.1949, Bishop's Stortford);
writer James McGee (Glen Moy) (b.1950, Chatham);
designer Sue Timney (b.1950, Benghazi, Libya);
jeweller Theo Fennell (b.1951, Egypt);
actress Jenny Agutter (b.1952, Taunton)

(

see below

)

;
actor Peter Birch (Harrogate, 1952–2017);
engineer and academic Dame Ann Dowling, DBE, FRS, FREng (b. Somerset, 1952);
soldier General Sir David Richards, KCB, CBE, DSO (b.1952, Egypt);
rugby player Maurice Colclough (b. Oxford, 1953-2006);
writer Louis de Bernières (b.1954, London);
actress and TV presenter Janet Ellis (b.1955, Chatham);
television gardener Monty Don (b.1955, (West) Berlin, West Germany, now Germany);
actor David Haig (b.1955, Aldershot);
astronaut Piers Sellars, PhD (b. Crowborough, 1955–2016)

(

see below

)

;
actress Fiona Fullerton (b.1956, Kaduna, Nigeria);

actress

Juliet Stevenson

, CBE

(née Stevens, b.1956, Kelvedon);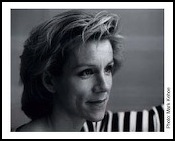 Juliet Stevenson.
writer Liz Elwes (b.1957, Plymouth)

(see

http://lizelwes.co.uk/ about.htm

)

;
musician Siobhan Fahey (b.1958, Dunshaughlin, Ireland);
actor Rupert Everett (b.1959, Norwich);
actor Chris Barrie (Brown) (b.1960, Hannover/Hanover, West Germany, now Germany);

comedienne

Jenny Eclair

(née Hargreaves, b.1960, Kuala Lumpur, Malaya, now Malaysia);

television presenter Ruth Langsford (b.1960, Singapore);

actress

Tilda Swinton

(b.1960, London);

actor Simon Russell Beale (b.1961, Penang, Malaya, now Malaysia);

politician

Mark Field

(b.1964, Hannover/Hanover, West Germany, now Germany);

rugby player

Will Carling

, OBE

(b.1965, Bradford-on-Avon);

footballer Jeremy Goss (b.1965, Dhekalia, Cyprus);
actress and model Elizabeth Hurley (b.1965, Basingstoke);
artist Anna Redwood (b.1967, Folkestone)

(see

http://www.annaredwood.co.uk

and

below

)

;
journalist Louise Minchin (née Grayson, b.1968, Hong Kong);
actor Ramon Tikaram (b.1968, Singapore);
musician Graham Coxon (b.1969, Rinteln, West Germany, now Germany);
musician Colin Greenwood (b.1969, Oxford);
explorer Bruce Parry (b.1969, Hythe);
musician Tanita Tikaram (b.1969, Münster, West Germany, now Germany);
footballer Darren Barnard (b.1971, Rinteln, West Germany, now Germany);
musician Jonny Greenwood (b.1971, Oxford);
footballer Maik Taylor (b.1971, Hildesheim, West Germany, now Germany);
poet and academic Tiffany Atkinson (b.1972, Berlin, West Germany, now Germany);
rugby player Kevin Yates (b.1972, Medicine Hat, Canada);
author and journalist Annabel Venning (b.1973, Hong Kong);
footballer Steve Lomas (b.1974, Hannover/Hanover, West Germany, now Germany);

musician

James Blunt

(Blount) (b.1974, Tidworth); and

musician

Peter Doherty

(b.1979, Hexham);

shoe designer

Nicholas Kirkwood

(b.1980, Münster, West Germany, now Germany); and

author and soldier Kevin Ivison, GM (b.1981, Shrewsbury);
cyclist and Olympic champion Philip Hindes, MBE (b.1992, Krefeld, Germany);
rugby player Joe Cokanasiga (b.1997, Fiji).
Can you think of anyone else?
PERSONAL STORY: MARY SEACOLE
In her autobiography,
Wonderful Adventures of Mrs Seacole in Many Lands
(1857), Mary Seacole (1805-81), née Mary Jane Grant, the Kingston-born nurse and healer who did sterling work in the Crimea, declared that she was the child of a British soldier:
'I am a Creole, and have good Scotch blood coursing in my veins. My father was a soldier, of an old Scotch family; and to him I often trace my affection for a camp-life, and my sympathy with what I have heard my friends call "the pomp, pride, and circumstance of glorious war."'

'NOT WARRIORS – JUST MEN: IMAGES FROM THE BATTLE FRONT – 1914 AND 2013', AN EXHIBITION OF ART BY TWO ONE-TIME ARMY CHILDREN
TACA has received news of 'Not Warriors – Just Men: Images from the Battle Front – 1914 and 2013', an art exhibition featuring works by Ron Olley and Anna Redwood, both of whom grew up as army children.
In its press release, the Lavenham Hall Gallery states that it is 'proud to be mounting an important exhibition of war art to represent our contribution to the events surrounding the centenary of the start of the First World War. It continues:
'The exhibition will feature the work of two artists who share unique experiences of the battlefield in both the twentieth and twenty-first centuries – with both showing, in the most powerful images, what it means to those who experience battle.


ABOUT RON OLLEY

Ron Olley
[below]
was born in 1923. His father was a regular soldier who joined the Gloucester Regiment in the early 1900s. He served throughout the First World War and was awarded gallantry medals at Ypres. He finally left the army, being invalided out in 1923. He died in 1930.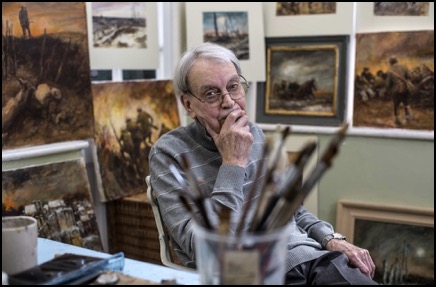 Ron joined the army in 1942. He witnessed the aftermath of the bombing of Bath while on training and was then posted to Africa, where he was behind the lines at El Alamein and was part of the 8th Army as it then made its way through Italy. After the Second World War, he made his living as an artist throughout his life, exhibiting principally in London.

The pictures exhibited at this exhibition have all been painted in the last eighteen months. As Ron comes to the end of his life, they represent a tribute to his late father. They have been painted using significant research of photographs of the First World War and other research of the period, all overlaid by Ron's own knowledge of what it was like to participate in the battles of the Second World War.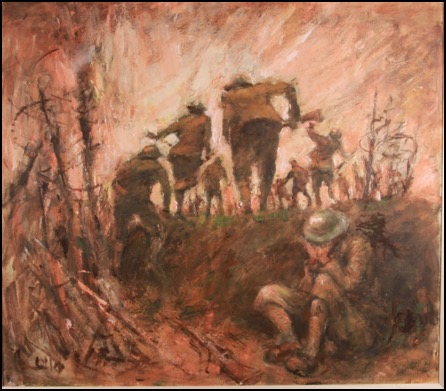 Above:
Ron Olley,
"He's Shed All Fear, All Faith, All Hate, All Hope" (Robert Graves),
oil, 85 x 76 cm.
ABOUT ANNA REDWOOD

Anna Redwood
[right]
was born into a military family in 1967, and, after studying at Newcastle College of Art and the Cecil Graves Academy, Florence, has gained an established artistic reputation with particular focus on portraiture and military subjects. In 2013, she was invited to work with the "Desert Rats" (the 7th Armoured Brigade) during their final tour of Afghanistan. She spent a month at Camp Bastion and in the forward bases in Helmand Province. The paintings and sculpture featured in the current exhibition derive from Anna's time in Helmand.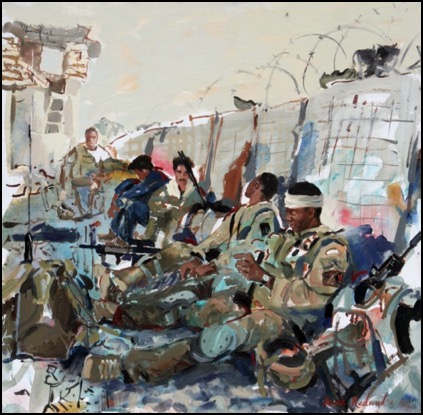 Above:
Anna Redwood,
Taking a Break,
acrylic, 56 x 56 cm.

"A STARTLING REMINDER OF THE CONSEQUENCES OF WAR FOR THOSE ON THE FRONT LINE AND THOSE THEY LEAVE BEHIND"

This is not an exhibition about the wars of yesteryear and today – it is about the lives of those that have fought them.

It is a valuable and unique link between probably the last working artist personally touched by the First World War and with his own experience of the Second World War.

This exclusive exhibition emphasises that the dangers and perils of war endured a century ago continue. The conflicts and technology change; the suffering remains the same.

The work on display is a startling reminder of the consequences of war for those on the front line and those they leave behind.'

The exhibition, which is being staged on behalf of
Help for Heroes
, can be seen at the Lavenham Hall Gallery, Hall Road, Lavenham, Suffolk C010 9QX between 11 am and 6.30 pm daily from Saturday 26 October to Sunday 2 November 1914.
Thereafter, it will be moved to the
Gerald Moore Gallery
, Eltham College, Mottingham Lane, London SE9 4RW for three weeks.
Anyone who would like to receive a formal invitation to the exhibition, either in Lavenham or Eltham, should e-mail Anthony Faulkner: dentonsculpture@aol.com.
Visit the
TACA-drum
blog to read more about the exhibition and to view more of the works of art that will be on show there.
'WE TRAVELLED AROUND A FAIR BIT, BECAUSE DAD WAS IN THE ARMY': AN INTERVIEW WITH DAME ELISABETH FRINK
One of the interviews in the British Library's National Life Story Collection: Artists' Lives is an interview with sculptor and printmaker Dame Elisabeth Frink (1930–93) by Sarah Kent, which was recorded on 28 and 29 December 1992. Prompted by Sarah Kent (SK), in the first part of the interview, Elisabeth Frink (EF) talks about her cavalry-officer father, her early life as an army child, and the influence that two trips made during a particular posting had on her as a budding artist, as follows.
'EF:
Anyway, after that, we travelled around a fair bit, because Dad was in the army, so I went up to Edinburgh. When I was five, I was up in Edinburgh, so I was at a school there. Before that I went to the village school in Suffolk. Miss Webb had 12 of us, which was lovely.
SK:
Did you travel out of England with your father, or were you always in the British Isles?
EF:
I was always in Britain. Till after the war, I didn't travel at all, you see, nobody did much, because he wasn't sent abroad until . . . he was sent abroad . . . before the war, he went to India, where he met my mother, because she was part of all that Raj . . .
SK:
She was born in India, was she, your mother?
EF:
Yes. And her parents were, her father was Indian Army. Her mother was an Irish woman. And they were out there all the time, so she was packed off to school in England, but, on the whole, she spent a bit of time in India then, and went to various hideous schools. But, because of that, she met my father, because he was sent out there before the war, because he was a cavalry, young cavalry officer, and he met her there, and they got married there, and eventually came back to England. And then, by that time, he was . . .
SK:
What date was that, roughly?
EF:
1929. I was born in 1930. And after that, he had various posts in England: Aldershot, and Tidworth, where I spent quite a lot of my childhood. And, and then, of course, by the time I was nine, the war had started.
EF:
And then finally, at the end of the war, he was here for a bit, in England, and I was finishing my schooling. But then he got a command in Trieste, which is very interesting. Not long after the end of the war. The Yugoslavs were having a bang up in Trieste, you know, they were always fighting across the border there, and they sent out one or two regiments to try and keep order. And, of course, that was the most fascinating part, at the beginning of my art studies, if you like, because we went to Venice, my mother and I, twice, and saw the Doge's Palace, St Mark's Square, wonderful sculpture, men on horses. The horses of St Mark's.'

TACA is grateful to the British Library, the original source of the interview, for permission to reproduce the above extracts. If you are a member of a licensed UK higher- or further-education institution, you can listen to the interview or read a transcript of it in its entirety by following this link to the British Library's Archival Sound Recordings website:
http://bit.ly/doKME9
. Alternatively, you can read a transcript of the recording by following this link:
http://bit.ly/cy9Gra
.
PERSONAL STORY: LADY ELSPETH CAMPBELL
This piece is an extract from an article that was published in the September 2004 edition of
Scottish Field
magazine entitled 'Treat her like a lady'. TACA is grateful to
Scottish Field
for permission to reproduce it.
'Lady Menzies Campbell was born Elspeth Mary Urquhart in the Lady Willingden nursing home in New Delhi in January 1940.

Left:
Lady Elspeth Campbell.
These were turbulent times and her father, Major General Roy Urquhart, was away fighting in World War II. Aged six months she was taken by her 22-year-old mother, Pamela, back to Britain. The circuitous journey took two months as ships had to join a naval convoy out in the Atlantic for the final approach. Mother and baby sat on the deck wearing life jackets as ships were torpedoed around them; no one was allowed to stop to help the sinking victims.

Elspeth remembers little of the war, most of which was spent in relatively peaceful Devon with her great-grandmother. She does, however remember her father arriving back from the battle of Arnhem in September 1944 and a council of war being held on the lawn. She recalls an idyllic childhood. After the war her father was posted to Scotland and, when she was 10 years old, to Malaya. By now she had two younger sisters and a brother. Flag Staff house in Kuala Lumpur was permanently guarded by armed Gurkha guards and everywhere they went they either travelled in armoured vehicles or were surrounded by tanks. The terrorist war in Malaya was known as the "emergency" and Elspeth says she felt fear for the first time.

After two years the family moved to peaceful occupied Austria and her photo albums show a large sugar pink house beside Lake Wörther See, where the children skied, swam, played tennis and rode. Her father had an official train and there were trips to Vienna to watch the changing of the guard at Schönbrunn Palace, between the French, Russians, Americans and British.

Elspeth was sent to a convent school in Devon near to her grandparents who had retired from India. She says she was never ambitious but that she became head girl and always came top of her class, which surprised her. At 16 she had passed sufficient A levels to qualify her for a place at Oxford.

"Father was horrified at the idea." He said: "Nobody likes a bluestocking" and she was packed off to finishing school to learn not only shorthand, typing and etiquette, but how to open fetes and polish the skills required to be "wife to a successful husband".'

[Text and image ©, and courtesy of,
Scottish Field
.]
FROM KASHMIR TO KENT: JOANNA LUMLEY'S ARMY-CHILD CREDENTIALS

The following extract was taken from an article entitled 'Family detective: Joanna Lumley', by Nick Barratt, whose investigation into actress Joanna Lumley's family history was first published in 2007 by the
Daily Telegraph
(and TACA thanks the
Daily Telegraph
for permission to reproduce this part of it). To read the full article, which furthermore outlines Joanna's family's connections with the Indian Army and the East India Company's army, click on:
http://www.telegraph.co.uk/portal/main.jhtml?xml=/portal/2007/08/
04/nosplit/ftdet104.xml
.
'Joanna Lamond Lumley was born in 1946 in Kashmir, the daughter of Major James Rutherford Lumley, who was serving in the 6th Gurkha Rifles. He had previously married Thya Rose Weir in 1941, during the Second World War, and after Indian independence in 1949 Major Lumley brought his family back to Britain to settle down to provincial life in Kent.

The contrast must have been striking indeed – the family had to leave behind the stunning mountains, clear air, intensely hot summers and bitterly cold winters of Kashmir, with the relative luxury and colonial trappings that an important military family might enjoy even during the last days of the British Raj.

What would have made the change even harder to acclimatise to was the fact that four previous generations of Lumleys had served and fought in India, and although they had on occasion returned to England, India would have been considered the family's home.'

[Text ©, and courtesy of, the
Daily Telegraph
.]

'YOU'RE SELF-RELIANT': JENNY AGUTTER'S REFLECTIONS ON ARMY-CHILD TRAITS

In an interview that first appeared on the BBC's website, www.bbc.co.uk, in December 2003, promoting the BBC television series
The Alan Clark Diaries
, actress Jenny Agutter revealed that she shared a similar background with the Conservative politician's wife, Jane Clark, both having grown up in an army family and left home for a boarding-school education. TACA thanks the BBC for permission to reproduce the following extract and image from the interview in question ('Jenny Agutter is Jane Clark',
http://www.bbc.co.uk/pressoffice/pressreleases/stories/2003/
12_december/15/acd_jenny_agutter.shtml
).
'As the child of a British Army officer, Jenny's childhood was peripatetic and the countries in which she grew up included Germany, Singapore and Cyprus. When she was nine, she became a boarder at Elmhurst Ballet School in Surrey.

Right:
Jenny Agutter.
"All those things are very formative," she says. "The world of the Army removes you entirely from class and also makes you very self-dependent.

"You have that sense of travel, different societies and close-knit family, because of moving around and the practicality of getting on with things wherever you are. You have to make decisions in your life quite fast; you're moving on, you're self-reliant." . . .

On meeting Jane, Jenny says: "I felt I came across a woman who was extraordinarily energetic, amazingly youthful, very practical and seems to live very much in the present – probably what has stood her in good stead throughout her life."

She continues: "Jane married at 16, so she went from one family to her own family – she had her children young – so her clear self-reliance comes from somewhere else; maybe the Army background and being at boarding school.

"Alan Clark must have seen her as this wonderful, vital young woman and somebody who was able to get on with things."'

[Text and image ©, and courtesy of, bbc.co.uk.]
PERSONAL STORY: THE ARMY CHILD WHO GREW UP TO BECOME AN ASTRONAUT

In the following section of a pre-flight STS-112 Shuttle Mission crew interview, the British-born US astronaut Piers Sellars, who was born in Crowborough in 1955, outlines his army-child upbringing. For the full interview, which was conducted in 2002 and first appeared on the National Aeronautics and Space Administration (NASA) website, click on this link:
http://spaceflight.nasa.gov/shuttle/archives/sts-112/crew/intsellers.html
).
'
Q:
First off give us a little bit about your background. You're going to be a little different than most of the astronauts here. Tell me about where, where's your home? Where did you grow up? And, kind of your background there.

A:
Okay. Yeah, a little bit different from most of the people here, as you pointed out. I was born in England but my dad was British Army – a career guy. So, British Army brats. Very well traveled. We went almost immediately to Cyprus and Yemen, and that's where I grew up as a kid. In those two places, and a little bit of time in Ethiopia. And then after a while with a family continually moving around, we were sent off back to boarding schools, back in England. I've got four brothers. So, we were packed off, en masse, and went to boarding schools in southern England – in Kent and Sussex. It was all very nice. Surprisingly. And went on to university in Scotland, in Edinburgh, which was great, and then a Ph.D. in Leeds. And after I finished up the Ph.D., I married my wife while I was in Leeds. She abducted me. She's a nurse from Yorkshire. And after I finished up my Ph.D. in Leeds, we came over to the States to do science in NASA-Goddard. And, I've been here ever since. That was in 1982, when we came over.'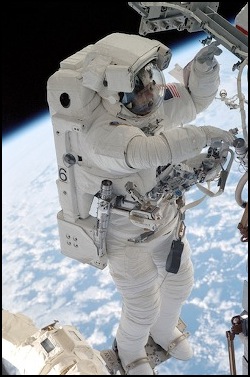 Left:
Piers Sellars carries out work at the end of the STS-112 Shuttle Mission's second spacewalk on 12 October 2002. The Earth, veiled by cloud, can be seen below. (© NASA; for further information on this NASA photograph, see: http://spaceflight.nasa.gov/ gallery/images/shuttle/sts-112/html/sts112-326-015.html.)